A beautifully designed book is important to your success as an author. With a professional design, it will not only make reading easier for a buyer, but a professional layout will stand out among the competition and let people know you are a serious author.
As a professional book designer, I love taking the manuscript into which you have poured your time and energy and returning to you a beautiful book you can be proud of, one that reflects your talent and the importance of your story.
Frequently asked questions
We'll talk about your ideas for the book cover and sign an agreement to start work.
I'll create three different designs for you to look at and give me feedback on.
Based on your feedback, I'll create one new design with two rounds of changes.
You approve the final design and I upload your finished book.
The amount of time it takes to design and layout a book, and thus the cost, depends on the details of the manuscript.
A layout with a lot of headings, subheadings, section breaks, and images will take longer to create than a simple fiction book with a chapter number and text.
I understand as an author myself, though, that gaining an idea of cost is important so listed below are the costs for three different book designs I have recently completed and what was included. For a quote on your specific manuscript, please contact me and I will be happy to provide you with a quote.
Authors like you have said...
"Thank you for the wonderful editing, book and cover design. I continue to marvel at how beautiful the book is and what good work you and I did together!"
"Sarah made the bewildering process of self-publishing my first book of fiction less frightening and ultimately manageable. She is that knowledgeable friend we all want to help guide us through the editing and design issues to the final product. It would have been so much more difficult without her."
"I enjoyed working with Sarah on producing the interior layout. She chose beautiful fonts, headers, and spacing to best capture the tone and intention of each word within the book. Additionally, Sarah was extremely thorough and fast. As a marketing professional who works with world-class designers, I was impressed with both the accuracy and turnaround time on this project. The final product turned out beautifully."
"Sarah surprised me several times with new, useful information I didn't have. While providing me with critical advice and information about the best toolkit for marketing and recruiting support for my book, she brought a well-informed and strategic intelligence to my planning. I feel so smart I got her on board, because she's a great asset."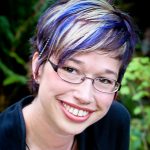 If you have any questions or would like me to design your book, I would love to talk with you.